The Ecoflo Wastewater Treatment System can be used as a tertiary filter after any EN12566:3 Wasterwater Treatment Plant or septic tank. The Ecoflo Filter can be used on it's own in domestic applications or in groups on a commercial basis.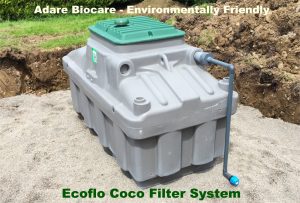 The major benefit for households in Ireland is that it can be used instead of a standard percolation area, low pressure network, sand polishing filter or reed beds.
The Ecoflo Coco Filter provides all the benefits of a proven and reliable tertiary treatment system for home owners in areas with no or poor percolation throughout Ireland. Designed for both principle or secondary residences, new housing constructions and repairing damaged or faulty septic systems.
Ecoflo Filter Benefits
Small Footprint
Requires no electricity or power source
Easy and fast installation
Plug and play ready to use
Low cost option
Factory built
PIA Germany certified
70% reduction in BOD and Suspended Solids
85% reduction in total nitrogen and ammonia
Log 4 kill/99.9% reduction in pathogens
Long life – Coco media lasts up to 15 years or more
Alternative Septic Upgrades
Have you been notified by your local County Council that your septic system has failed the Council Inspections? If so, we can provide advise and technical expertise to help you decide on the best septic system upgrade. Adare Biocare can construct sand polishing filter upgrades or provide alternatives to secondary treatment such as a septic tank add-on's like the coco filter tertiary upgrade to secondary treatment. For more information on the Coco Tertiary Filter or Coconut Package Filter system, read the Coconut Filter Tertiary Treatment Unit brochure. The Conder Millenium Low Profile Septic Tank is ideal for use in shallow dig sites. The Ecoflo Compact Coco Filter is also designed for sites with limited space. It comes with a guaranteed maintenance life of ten years. The Ecoflo is designed to effectively purify domestic wastewater in any situation. Exceptionally compact and modular, this septic treatment system is particularly suited for tight spaces. The Ecoflo treatment system is easily installed after existing septic tanks and the treatment process doesn't require power.
Upgrading your existing septic tank is a straight forward process when you choose Adare Biocare. We provide a complete turn-key septic tank upgrade service. Call us at 061-395819 for more information.